Description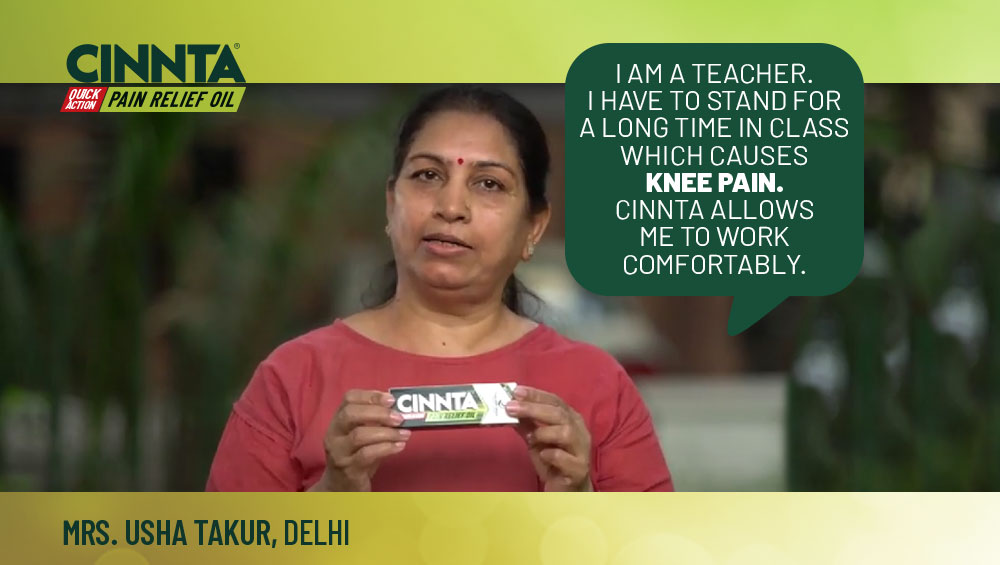 Cinnta Pain Relief Oil – A formulation of herbs from ancient systems of medicine, to relieve joint and muscular pain and arthritis. Purely natural. Made from 27 Ayurvedic herbs including Divyagandha, Ashvagandha, Ramvallabh, Punarava & Sugandhitrifala. Using traditional ayurvedic processes. Cures while it relieves pain.
Cinnta has been clinically tested at Ayurveda Hospital, under the supervision of renowned Vaids.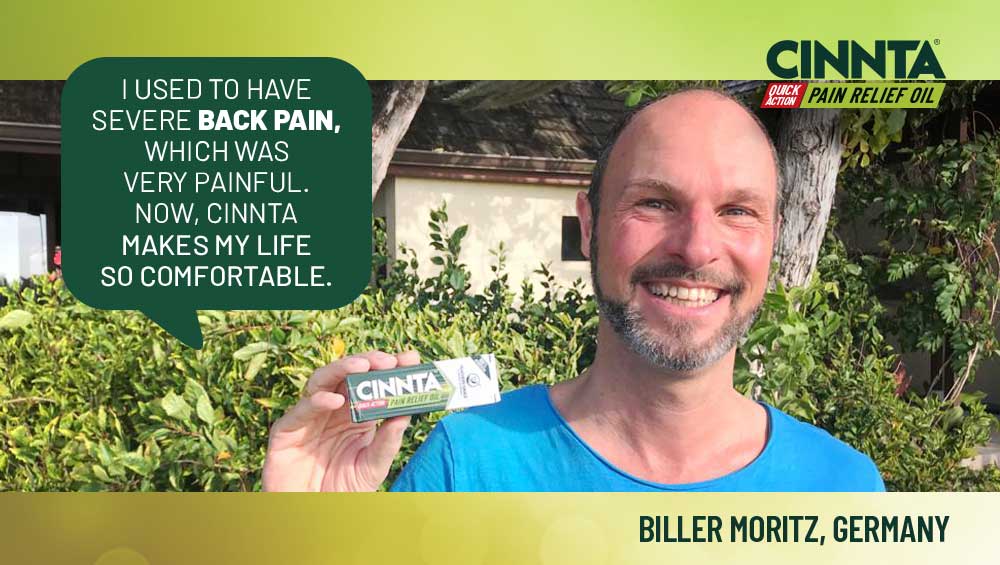 WHY CINNTA
PAIN RELIEF OIL?
It is 

100% Ayurvedic

for effective relief from arthritis, joint pain, back pain, stiffness, and discomfort, with its quick action efficacy.

The curative properties

 of herbs contained in 

Cinnta

help joints in retaining strength by providing lubrication, which is lost due to degeneration of Synovial fluid and cartilage. It ensures improved mobility & flexibility of joints.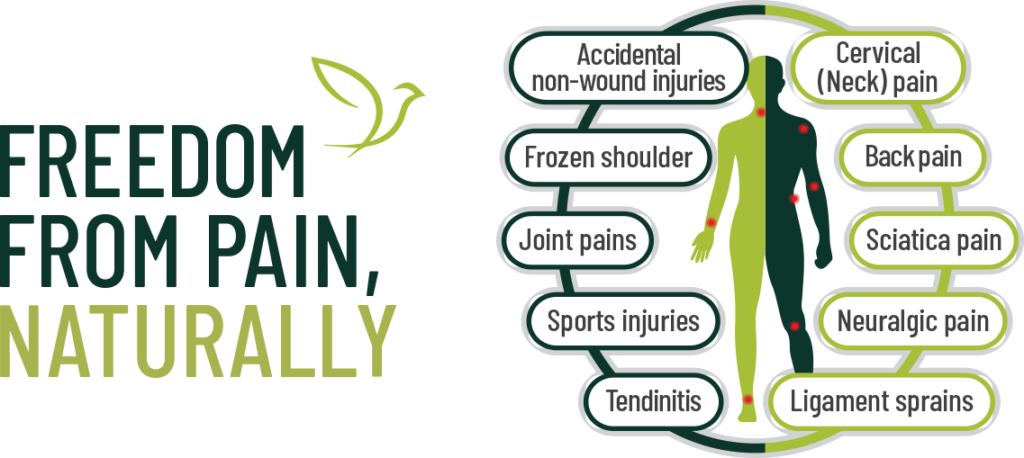 POWERED BY

BIO-ACTIVE ADVANTAGES
Reduces joint pain and arthritis discomfort.
Reduces the release of IFN-y.
Reduces the production of NO (Nitric acid), TNF-a, and IL-1B
Regulates pro-inflammatory response.
Regulates joint mobility and flexibility.
Relieves muscular pain.
Relieves inflammation and stiffness.
Increase secretion of IL-4 from lymphocytes.
Stimulates blood circulation.
OVER 86% PATIENTS EXPERIENCED RELIEF FROM JOINT PAIN & STIFFNESS, AND MUSCULAR PAIN WITH THE REGULAR USE OF CINNTA.
APPLICATION AREA:
Relieves Knee Pain, Back Pain, Cervical Pain, Sciatica pain, Sports Injury, Joint Pain, Tendinitis, Frozen Shoulder, Neuralgic Pain
Anti-inflammatory, Stimulates blood circulation, Relieves muscular pain, Enhanced mobility, Reduce stiffness, Alleviates joint discomfort.
HOW TO USE
Ideally, warm the oil slightly. Massage gently onto the affected painful area.
INGREDIENTS LIST
Made from 27 Ayurvedic herbs using traditional methods. Phyto-chemicals in these 27 herbs encourage skin barrier homeostasis and help to reduce inflammation.
EACH 10 ML CONTAINS:
Trachyspermum Ammi 200mg | Curcuma Longa 150mg | Operculina Turpethum 400mg | Withaniasomnifera 200mg | Commiphora Wightii 250mg | Zingiberofficinale 100mg | Plumbago Zeylanica 100mg | Acrouscalamus 100mg | Cinnamomum Verum 100mg | Hemidesmusindicus 50mg | Boerhaviadiffusa 175mg | Vitexnegundo 100mg | Cinnamomumtamala 50mg | Datura metel Linn 100mg | Ricinus Communis 125mg | Solanum Xanthocarpum 100mg | Curcuma Zedoaria 200mg | Rock Salt 150mg | Convolvulus Pluricaulis 100mg | Sida Cordifolia 100mg | Nigella Sativa 100mg | Allium Sativum 500mg | Syzygium Aromaticum 500mg | Myristicafragrans 500mg | Cedrusdeodara 175mg | Cinnamomumcamphora 500mg | Sesamum Indicum 10ml

FAQS
How long should I apply Cinnta for better results?
You can apply Cinnta as long as you like/need. It all depends on the type of pain you have. In case of severe and chronic pain, apply 5 to 7 times a day. For mild to moderate, apply 3 times a day. 
Is Cinnta effective for all age groups?
Yes, Cinnta is effective for all age groups.
Can I take painkillers while using Cinnta?
Yes, you can take them. However, with diminishing pain, you can reduce the number of painkillers. 
How is Cinnta better from market variants?
Cinnta has been formulated with the help of old Ayurveda textbooks and the best Ayurveda physicians.
Are there any side effects?
None so far
Is it useful for sciatica pain?
Yes, Cinnta helps alleviate sciatica pain and all spinal back-related problems.
Is this oil easy to apply?
Yes
Can I heat this oil?
Yes, you can moderately heat this oil.
What is the right time to apply this?
Any time is a good time, preferably after having a bath. Make sure to keep the application area away from moisture after applying Cinnta.