Description
Benefits of Teachers' Grace Onion+5 Hair Oil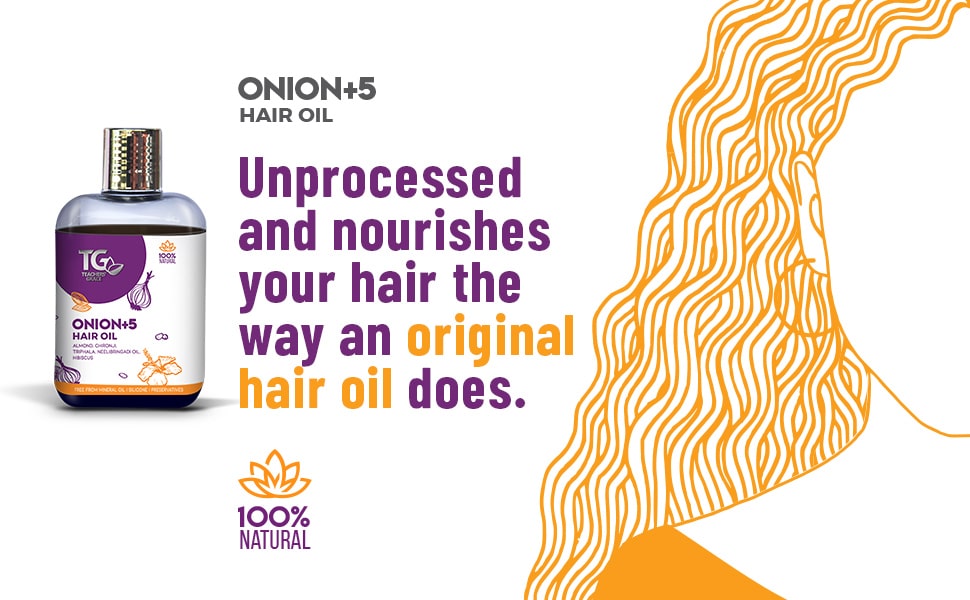 BOOSTS HAIR GROWTH: Teachers' Grace Onion+5 Hair Oil reduces hair fall and promotes hair growth.
NOURISHES SCALP: Teachers' Grace Onion+5 Hair Oil infused with natural herbs and traditional enriching ingredients provides nutrition to scalp, making hair healthier and stronger.
ENRICHED WITH NATURAL INGREDIENTS: Onion, Amla, Harad, Baheda, Neelibhringadi Oil, Almond, Hibiscus, Chironji, Bhringraj and lots of other natural ingredients act as a tonic for hair and possesses antioxidant, anti-inflammatory, and antibacterial properties.  Onion+5 Hair Oil rich in flavonoids & amino acids enhance blood circulation to hair follicles, retransform dormant follicles, and trigger keratin production in the cells. Thereby reducing hair fall and delaying greying of hair!
ADDS STRENGTH & SHINE: Nutritiously enriched Onion+5 hair oil makes hair strong from the inside & shinier on the outside.
Classical Ayurvedic Hair Oil: Teachers Grace Onion+5 Hair Oil is made in the traditional Ayurvedic way, it is a tried & tested way of making efficacious Hair Oil! The purity of ingredients and the purity of process makes the oil super-effective!
NATURAL & TOXIN FREE : It is an oily & sticky Hair Oil, as a hair oil in its natural state should be. We do not chemically filter the oil to make it non-oily and non-sticky. This Hair Oil is completely toxin free and 100% natural. The jury is still out on whether these new-age pop hair oils are good for your hair?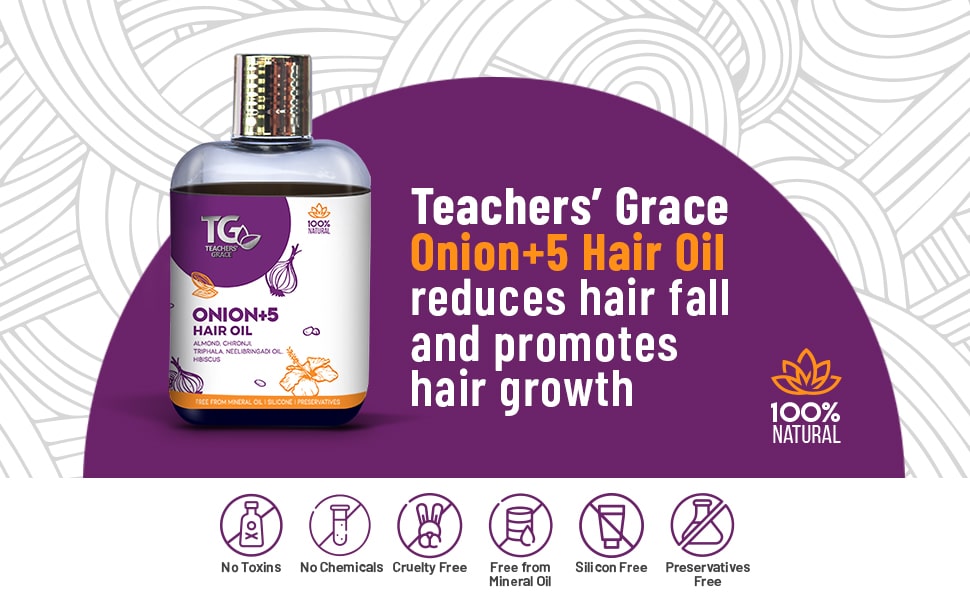 WHY USE TEACHERS' GRACE ONION+5 HAIR OIL?
A healthy body results from holistic living. It needs positive thoughts, speech and actions. 360-degree nourishment comprising salads, fruit and fresh seasonal food; proper rest and sleep, and a healthy lifestyle – all contribute to complete health and wellness.
Hair needs nourishment from both within and without. A proper diet nourishes it from the inside. Proper hair care nourishes it from the outside. According to Ayurveda, well-cared for hair requires hair oil infused with natural oils and herbs. Each herb and natural oil provides distinct nourishment and enrichment to the hair roots and follicles. Merely one ingredient cannot nourish hair properly.
TEACHERS' GRACE ONION+5 HAIR OIL is a careful combination of over 26 herbs and oils, made with in-depth Ayurvedic knowledge received from master practitioners. We will be honest ONION+5 is no magic oil, we can promise that it will CERTAINLY NOURISH YOUR HAIR and add beauty and growth to it.
Current-day pop Ayurveda products either use mineral oils or chemically process hair oils to make them less oily and sticky. Unfortunately, these chemical processes deplete the nourishment properties of the oils and herbs.
TEACHERS' GRACE ONION+5 HAIR OIL is unprocessed and nourishes your hair the way an original hair oil does.
It contains no artificial colour, preservatives and no perfume to make it smell good. Most new age oils have added perfumes  to make them smell good as well as have added artificial colours to make them look bright or bleached them to become colourless. These added chemicals or chemically processed oils would do any good to your hair, it is a BIG question mark?
Onion+5 Hair Oil Ingredients
Onion, Almond, Neelibrigandi Oil, Amla, Baheda, Harad, Hibiscus, Chironji, Sesame Oil, Olive Oil, Fenugreek Seed Oil, Coconut Oil, Black Seed Oil, Aloe vera Juice, Basil Oil, Curry Leaf, Nilli (Indigo), Bhringraj Juice, Gunja, Coconut Milk, Buffalo Milk, Cow Milk, Yashtimadhu, Anjana, Ashwagandha, Brahmi, Neem, Indravaruni, Karnasphota, Gunja, Anjana, Amla Juice.
Key Benefits of Teachers' Grace Onion +5 Hair Shampoo
Made up of natural oils, proteins, and herbal extracts that hydrate hair follicles and roots 
Reduces the chances of hair fall; loose, dry, and damaged hair
Essential oils strengthen hair follicles and provide nourishment to hair roots and follicles 
Promotes hair growth and stimulates the formation of new and healthy roots 
Helps maintain a perfect balance of oil and pH levels for beautiful, healthy, and strong hair
Herbal extracts in TEACHERS' GRACE ONION+5 SHAMPOO have antiseptic properties to help prevent skin infections
TEACHERS' GRACE ONION+5 SHAMPOO makes hair lustrous, shiny, and bouncy
Specially formulated to protect coloured hair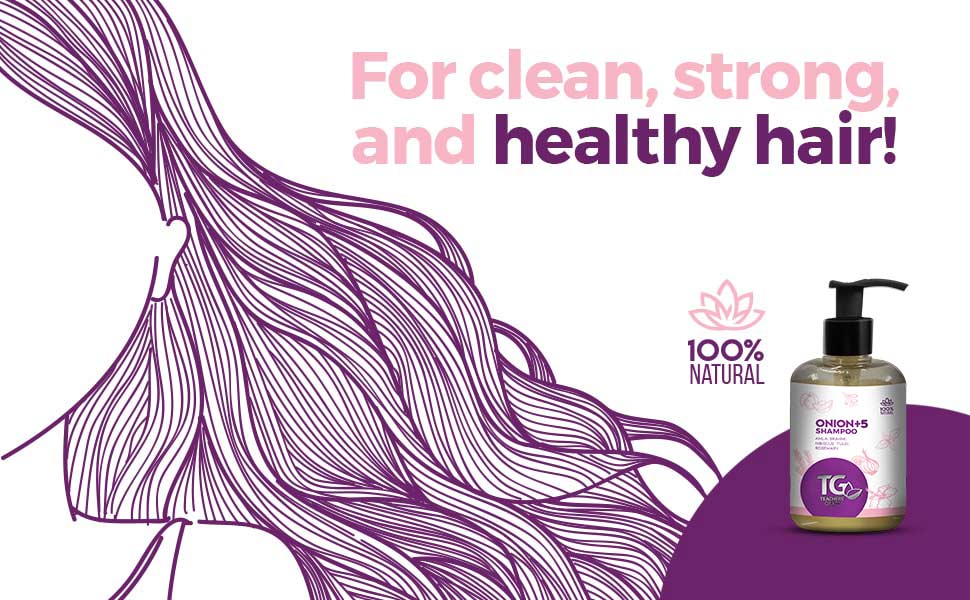 Most people think that all shampoos are the same. This belief results in shampoos made with harsh and harmful chemicals gradually depleting hair. At some time or the other most people experience increased hair fall.
The understanding that any shampoo's basic function is to wash hair has undergone sea change. A good shampoo should not only wash hair, it should also not damage hair. Many chemical shampoos rob hair and hair roots of the nourishing natural oils produced by the body. The best shampoos today not only clean hair and scalp, they also nourish and enrich hair follicles and overall hair. The finest shampoos contain herbal extracts and natural oils to maintain the right pH balance and ensure that hair follicles and hair remain nourished and enriched; and do not lose natural oils.
TEACHERS GRACE ONION+5 SHAMPOO has been conceived and created in consultation with expert Ayurvedic practitioners who understand how a shampoo needs to clean and how a shampoo should nourish hair naturally.
Its natural oils and herbal extracts maintain the right pH balance and ensure that hair and its follicles remain nourished and enriched; and do not lose the body's natural oils.
TEACHERS GRACE ONION+5 SHAMPOO delivers incomparable benefits for strong, healthy, beautiful hair – with an astounding pH balance of 5.5 !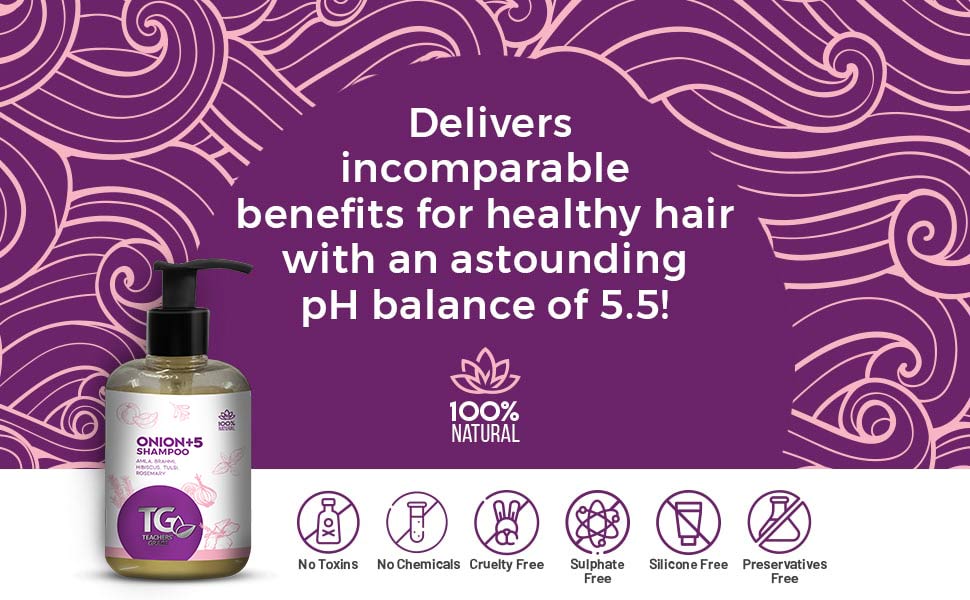 Onion+5 Hair Shampoo Ingredients:
Purified water, Sodium Lauroyl Sarcosinate,  Sodium Coco-amphoacetate & Disodium Coco- amphodiacetate, Sodium Lauroyl Methyl Isethionate,Coco Amido Propyl Betaine, Cocamide Monoisopropanolamine, Vegetable Glycerin, Isoamyl Laurate, Hydrolyzed Keratin, Hydrolyzed Wheat Protein Onion extract, Saw Palmetto Extract, Hydrolyzed Collagen , Lysine, Histidine, Arginine, Aspartic Acid, Threonine, Serine, Glutamic Acid, Proline, Glycine, Alanine, Valine, Methionine, Isoleucine, Leucine, Tyrosine, Phenylalanine , Cysteine,  Guar Hydroxypropyltrimonium Chloride ,Xanthan Gum, Green Tea Extract , Hibiscus Extract   Amla, Reetha Extract, Brahmi Extract , Rosemary Extract , Tulsi extract, Provitamin B5, Sodium Gluconate, Potassium sorbate & Levulinic acid & IFRA certified fragrance