Description
Teachers' Grace Extra Hydrating & Moisturising Serum : at the confluence of modern science and the herbal world
Teachers' Grace Hydrating Moisturising Serum is formulated with rich natural serums, herbal extracts and actives – to help your skin reclaim its natural, beautiful radiance!
Teachers' Grace Hydrating Moisturising Serum is a breakthrough in skin-enriching that helps energise stressed, pollution exposed, and dull skin so that it regains its natural fresh glow. It is an oil-free, non-greasy, aqueous  moisturiser that blends with every skin type and color to enhance natural, vital skin tone. Teachers' Grace Hydrating Moisturising Serum also helps protect skin against UV rays with enduring hydration.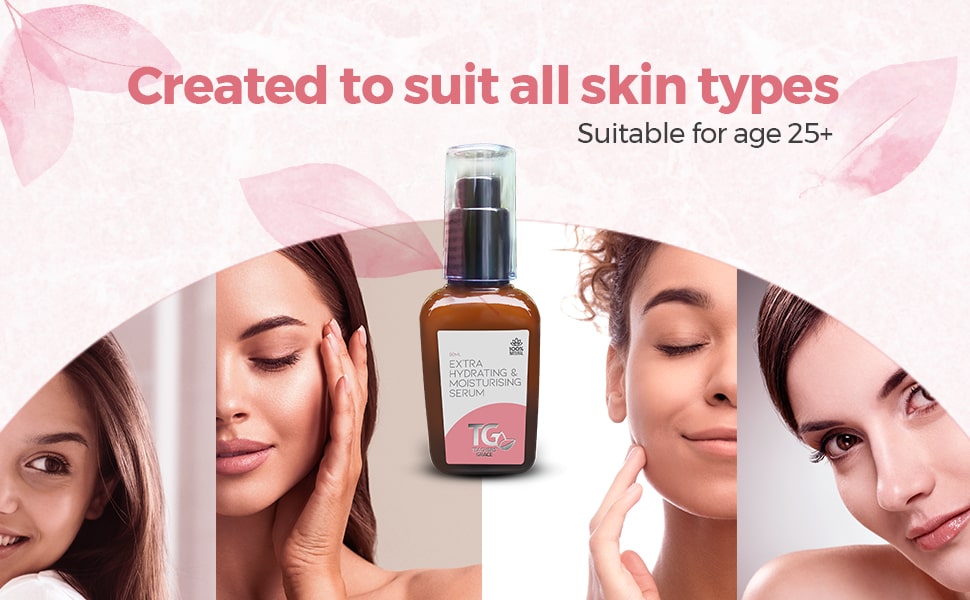 Why Teachers' Grace Extra Hydrating & Moisturising Serum :
Trees look wonderful when they're watered at the roots and their leaves are given a thorough hydrating wash. They look absolutely marvellous after a rain shower. There's no rocket science, it is hydration that pours life and sparkles into them.
The human body is more than 70% water. It, too, needs hydration from both without and within. Proper,  nutritious diet, rich with fluids, hydrates the human system well, from inside – and there is no substitute for this.
Modern day human body systems are subjected to innumerable pressures: stress, air pollution, water pollution, food adulterated with insecticides and pesticides, over-exposure to mobile phones, large TVs and monitors, and all pervasive communication waves. Working women particularly, are subjected to double doses of pressure : work performance pressure plus the business of looking after homes and children. 
This external pressure generates internal emotional and intellectual stress, which takes a special toll on facial skin. All these factors necessitate a facial skin enrichment – ideally a herbal one, backed by  scientific understanding. In our experience to get the best results, both are critical to hydrating the skin adequately. 
Ingredients
Purified water, Glyceryl monostearate,Cetearyl Olivate, Saccharide Isomerate, Niacinamide, Trehalose, Honey extract, Jojoba Oil Phytosqualane, Natural tocopherol(vitamin E), Hyaluronic acid, Vegetable glycerin, Sodium Gluconate,Potassium Sorbate & Levulinic acid, IFRA certified fragrance
Key Ingredients Specialties
Glyceryl monostearate
Glyceryl Stearate works like a lubricant on the skin's surface, helping it become soft and smooth. It also helps skin retain natural moisture by inhibiting the loss of water.
Cetearyl Olivate
It naturally hydrates and nourishes the skin by penetrating deep into the skin. Rejuvenates the skin for a dewy & fresh appearance. Cetearyl Olivate also helps to enhance the skin's general texture and firmness.
It's liquid crystal structures are similar to the lipid structures of the stratum corneum, the epidermis' outermost layer. It helps to repair the skin's outer barriers. This aids in the healing and regeneration of damaged skin.
Saccharide Isomerate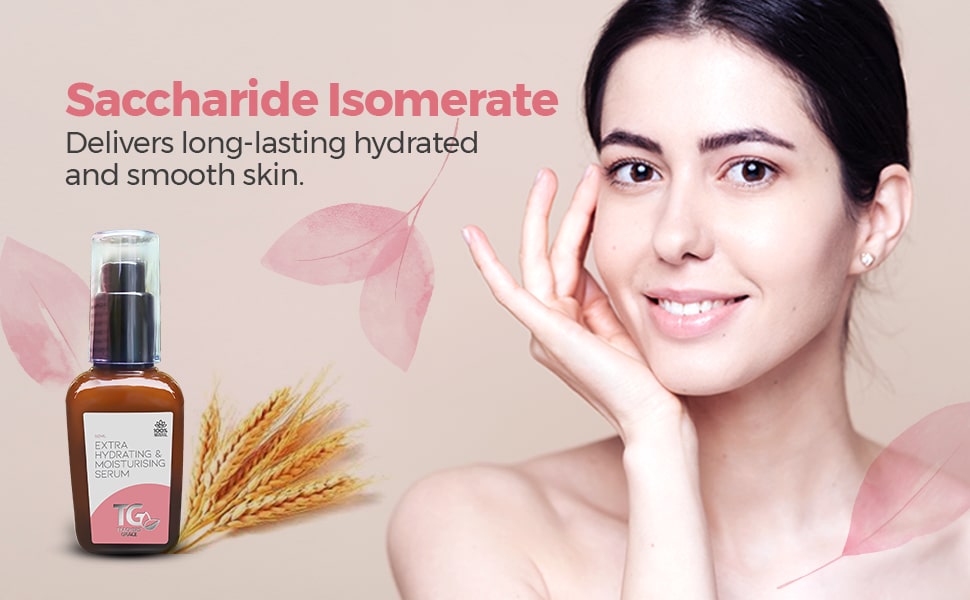 This vegan hyaluronic acid booster has been found to provide long-lasting moisturising and smoothing effects to the skin due to its innate ability to bond with the skin. Saccharide isomerate is also an ideal natural ingredient for all skin types, especially sensitive skin, due to its great soothing and relaxing properties.
Niacinamide
Niacinamide is a water-soluble vitamin that helps reduce enlarged pores, uneven skin tone, fine lines, wrinkles, and dullness.
Niacinamide is a powerful multitasker which helps improve cellular energy, cell turnover, microcirculation, and antioxidant protection, helping in slowing down the ageing process.
To combat age spots and hyperpigmentation, niacinamide helps evenly distribute pigment for a seamless skin tone.
Trehalose
It works as a humectant, draws moisture from the air to help keep skin cells moisturised for a fresh and dewy appaerence.
Honey extract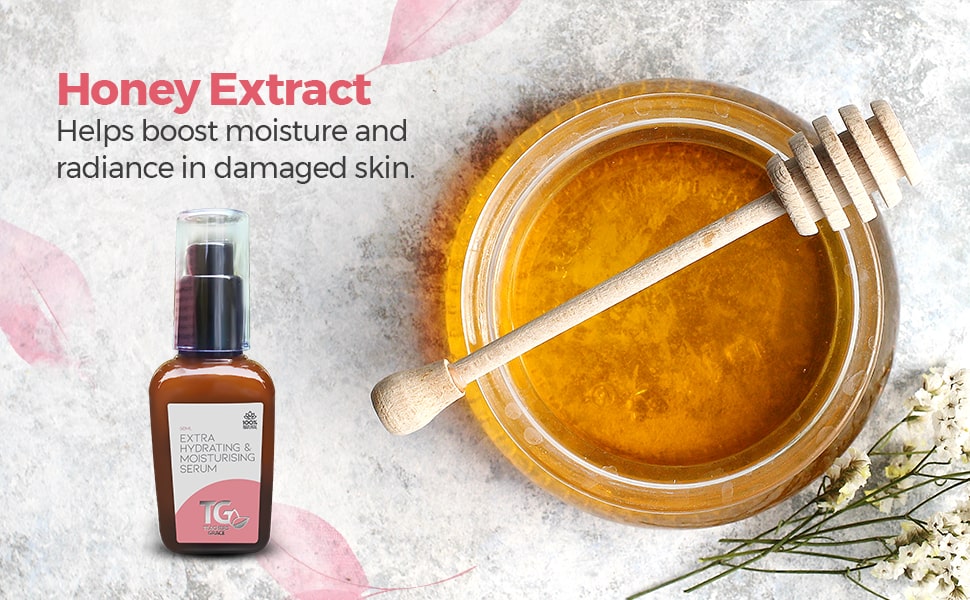 Honey's anti-inflammatory qualities may help to soothe and heal sunburned skin. Because of its hygroscopic nature, it also aids in skin's moisturization.
Honey's antioxidant properties assist to speed up the healing of small wounds and its antibacterial properties assist in reducing chances of skin infection.
Jojoba Oil Phytosqualane
The oil of jojoba is a humectant. It helps to retain moisture in the skin by way of forming a protective barrier on the surface. This not only keeps the skin hydrated, supple, and moisturised, but it also keeps germs out of the pores, thereby helping avoid infection and acne.
Natural tocopherol(vitamin E)
Vitamin E (tocopheryl acetate) is an antioxidant-rich natural chemical molecule. Vitamin E's antioxidant attributes aid in the treatment of acne as well as the gradual fading of scars and pimple marks. It also aids in the treatment of wrinkles by enabling cell renewal.
Hyaluronic acid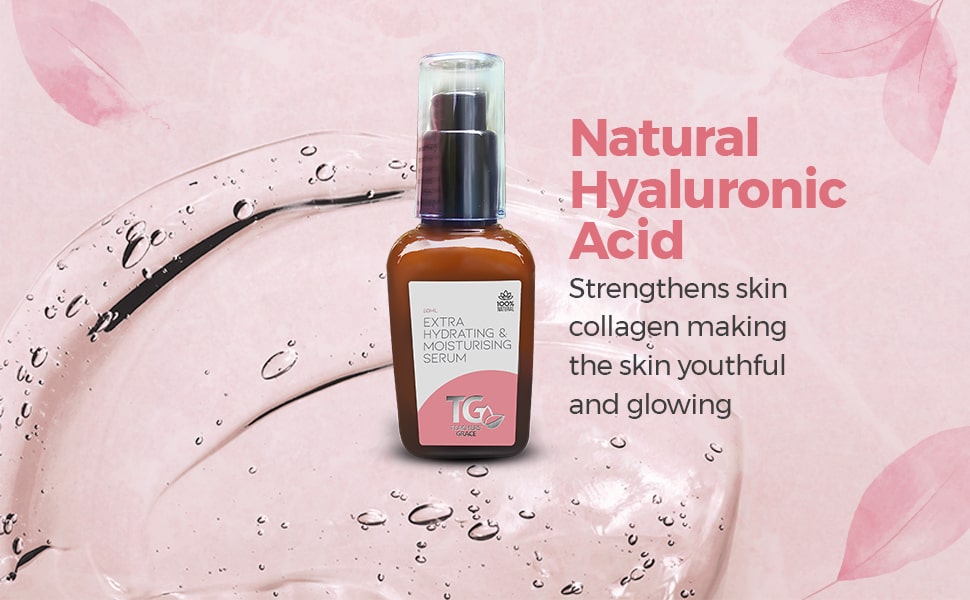 Hyaluronic Acid mainly functions as a humectant, a moisture-attracting substance that delivers water to the skin's surface. It  doesn't create water, rather it derives water either from the atmosphere or from deep within the skin to hydrate the outermost layer of skin. The moisture-binding properties of Hyaluronic Acid and its ability to retain moisture makes it an ideal ingredient for moisturizing skin adequately.
Anti-Aging Properties
Naturally extracted Hyaluronic Acid's enormous hydration properties make it a go-to ingredient for its anti-aging qualities. All due to its dewy nature, the skin appears to have fewer fine lines and wrinkles, creating the effect of more youthful-looking skin.
Vegetable glycerin
Vegetable glycerine is an excellent skin moisturiser and cleanser that helps soften and lubricate the skin. It's easily soluble in water, making it a perfect choice for skin applications.