The hair is the richest ornament of women – Martin Luther
Taking a cue from the famous quote of Martin Luther King, today lot of us struggle to grow and make our hair healthy to the desired length and shine. If you are one of these people, you know for sure the time-consuming and difficult path ahead of you.
Dealing with the constant hair fall every day is very frustrating, especially when you see the number of strands that come out during the brushing of the hair and the constant worrying thoughts that you might go bald soon. The dry scalp and dandruff add to your hair woo, making you scratch your head throughout the day. But now, there is a light at the end of the tunnel to cheer you up.
Teachers Grace – the company, envisioning to take Ayurveda to the masses, introduces all-natural Onion Hair Oil that can work wonders. We all know that beautiful hair is like a crown, which you never take off. Our research team works with the ancient Ayurveda knowledge, learn from the Himalayan Masters, rare herbs, and modern science to bring forth modern haircare marvels.
Factors that Create Hindrances for Hair Growth
The typical hair issues that bother you are frizziness, thinning, and dandruff. Many factors cause these problems, including pollution, poor quality hair products you apply,  the quality of the water with which you are washing the hair, chronic health problems, and certain lifestyle habits.
Onions – The True Nature Care for Hair Fall Treatment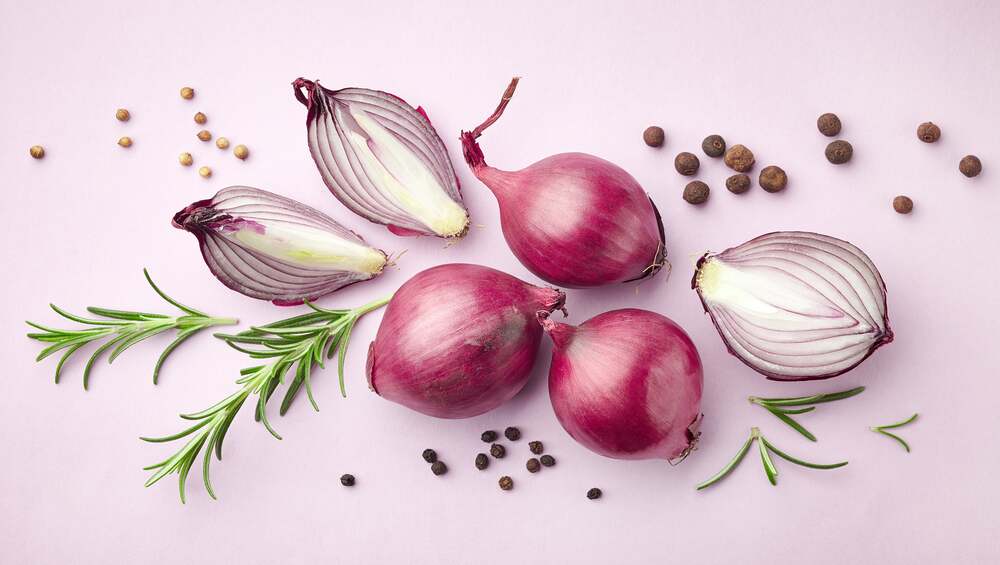 "Prevention is always better than cure ", and one of the best solutions is the application of quality onion hair oil on your hair daily. Onions have rich nutrients such as vitamin C, vitamin B9, vitamin B6, potassium, and many more; they are all associated with healthy hair growth by strengthening the hair roots.
Thus applying quality onion hair oil on your hair regularly can have anti-inflammatory, fungicidal, and anti-bacterial effects on your scalp. No wonder why the experts recommend onion hair oil for Hair Fall Control and Hair Fall Treatment. Onion oil for dandruff is also trending on Google as the best remedy for your itchy scalp and chronic dandruff issues.
Top Six benefits of using onion hair oil with 100% natural ingredients
TGSA(Teachers Grace) Onion +5 hair oil is a 100% natural and pure Ayurveda product. It is a Chemical Free Oil with  "No Side Effects". TGSA Onion+5 hair oil is recommended by hair care professionals as a natural treatment for Hair Fall Control, Hair Fall Treatment and chronic dandruff cases. It offers innumerable benefits, and you can look at these top six benefits before you try it out.
TGSA Onion+5 hair oil Supports Your Hair Growth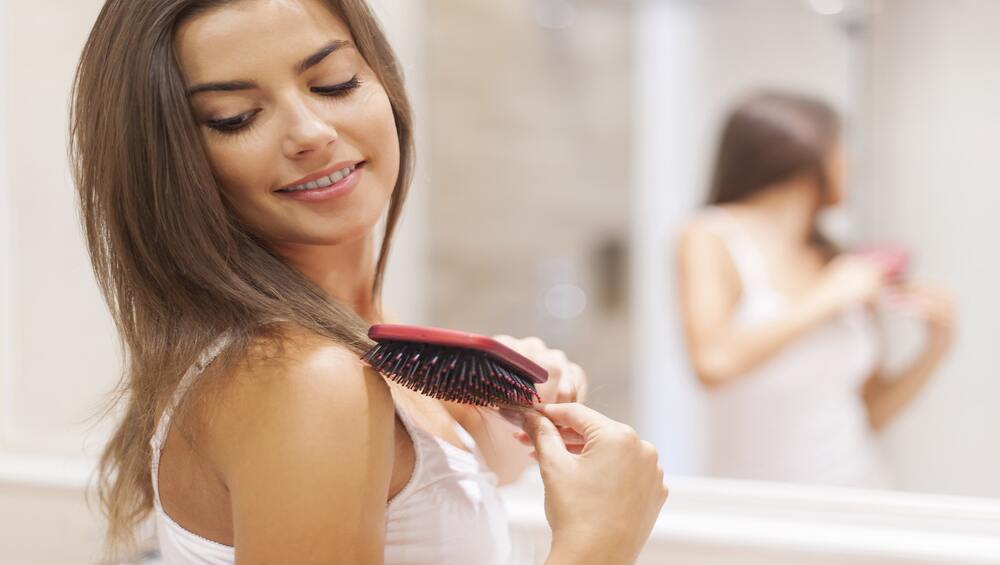 Regular application of TGSA Onion+5 hair oil on your scalp promotes better blood circulation, healthy follicles, and more robust hair growth. The red onion extract is rich in sulphur and keratin, making your hair grow thick and long.
TGSA Onion+5 hair oil Controls Your Hair Fall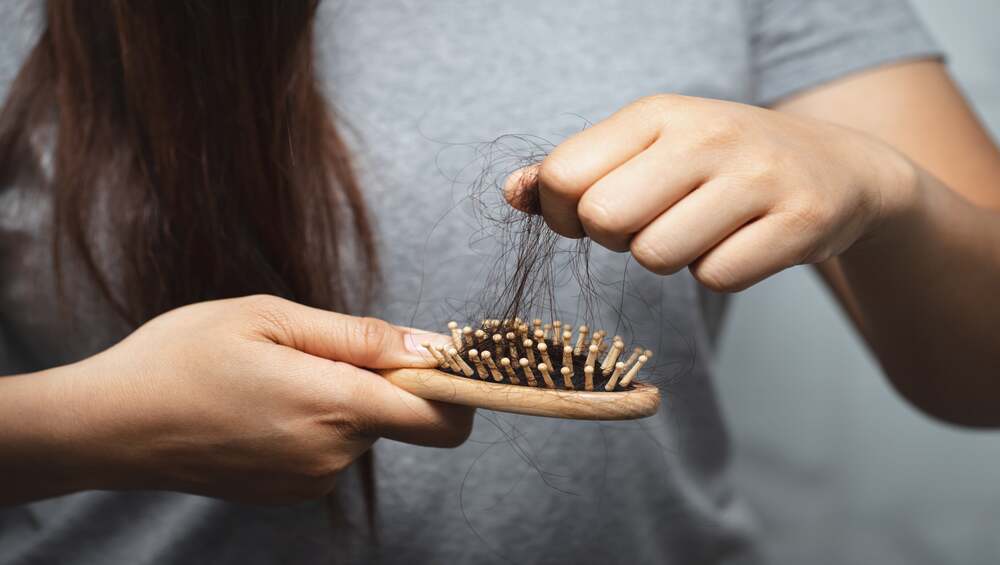 TGSA Onion+5 hair oil is 100% natural and rich in antioxidants, playing a catalytic role in producing enzymes that limit hair fall and fight factors responsible for hair loss.
TGSA Onion+5 hair oil brings back Shine, Lustre, and Strength
Nutrients like  Vitamin B9 (folate), Vitamin C, Sulphur, and Potassium are responsible for the total health of your hair. These minerals nourish split ends and dull hair and bring back shine and strength. TGSA Onion+5 hair oil is also rich in nutrients with strong antimicrobial properties.
Bid Farewell to Dandruff with TGSA Onion+5 hair oil
The natural compounds in TG Onion+5 hair oil help nourish the hair follicles and reduce hair thinning because of dry scalp and dandruff. It fights off dry scalp, dandruff, and scalp infections holistically.
Prevent hair Greying with TGSA Onion+5 hair oil
Rich in antioxidants, vitamins, and Quercetin, TG Onion+5 Hair oil's success lies in balancing the pH level of the hair. With pH levels balanced, the melatonin is preserved, preventing premature greying.
TGSA Onion+5 hair oil: A Natural Conditioner
Natural oil presence in the scalp is essential for more robust roots. Using synthetic Shampoos frequently results in the complete damage of natural oil balance in your scalp. Regular use of TGSA Onion+5 hair oil helps restore the natural oils in your scalp again.
Why TGSA Onion+5 hair oil is preferred by Customers?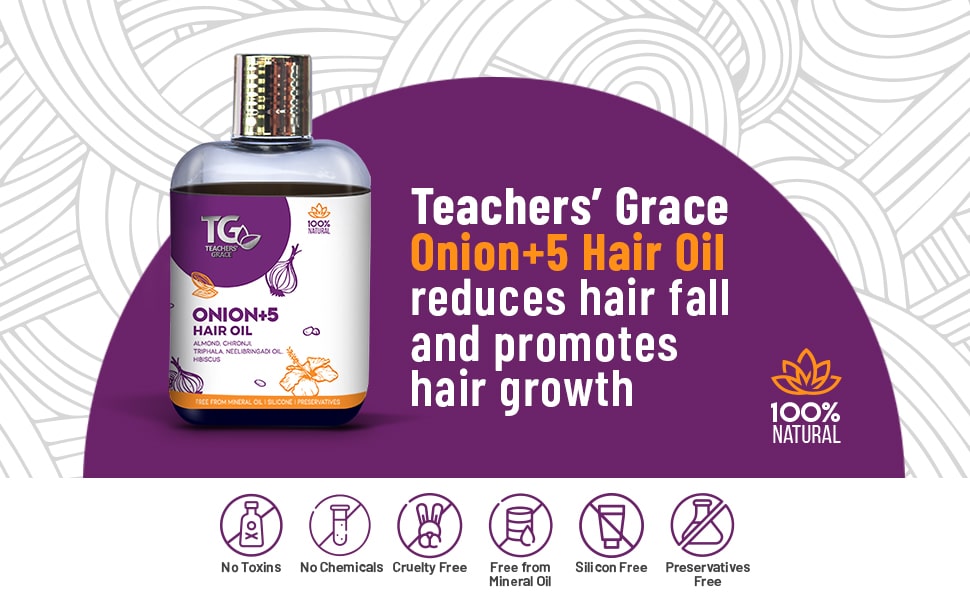 TGSA Onion+5 Hair oil is free from synthetic chemicals harmful to your scalp and hair. Our Onion hair oil is 100% natural and brings the best benefits to you and your hair to give a celebrity look.
TGSA Onion+5 Hair oil is safe to use and is GOOD enough for all your Hair Fall Control and Hair Fall Treatment. As TG Onion+5 Hair Oil has not been bleached with chemicals to make it colourless, odourless and non-oily & sticky. It smells the way Ayurvedic herbal oil should smell, thereby making the process and the Oil totally natural.
TGSA Onion+5 Hair Oil is just not an Onion Oil, It has the goodness of Onion plus ALMOND, NEELIBRINGHADI OIL, TRIPHALA (AMLA, BAHEDA & HARAD), HIBISCUS, & CHIRONJI
ONION
In Ayurveda, onion is a proven cure to prevent hair fall and accelerates hair regrowth. Onion effectively prevents bacterial infections or dandruff and treats baldness. Rich in sulphur, this magic oil also holds antibacterial and antiseptic properties and prevents split ends, hair thinning, and premature greying.
It can be applied as a natural conditioner, nourishes the scalp, improves blood circulation, and prevents dryness. Onion Oil is the best known Ayurvedic solution to increase hair length and makes hair thick and strong. It maintains the regular pH of the hair and can help in fighting Lice Infestation.
ALMOND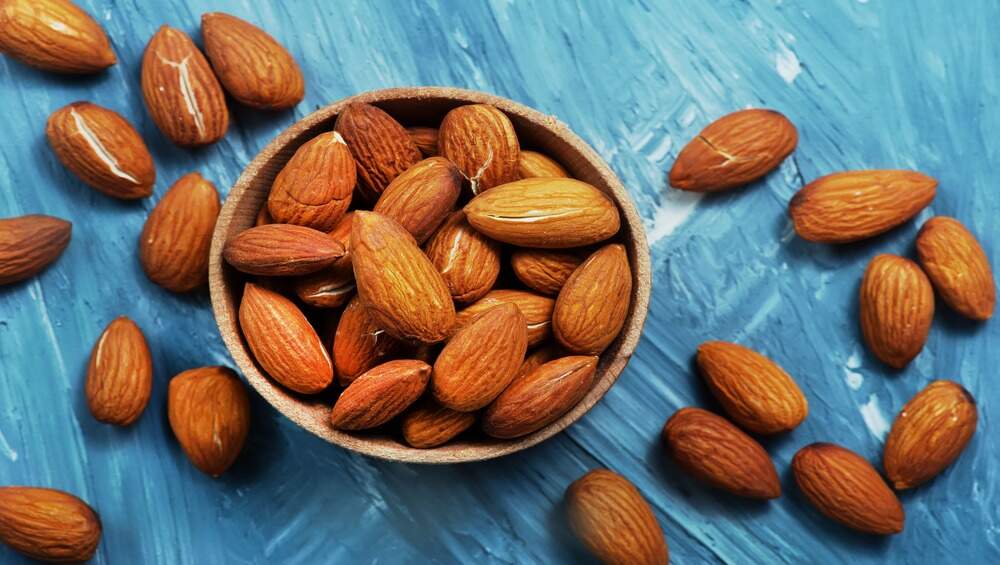 Almond oil is an excellent source of omega-9 fatty acids, natural antioxidant-vitamin E, and biotin that play a major role in keeping hair healthy and promoting hair growth. The nourishing oil is widely recommended for hair as it has antibacterial and fungicidal properties, which is efficacious in balancing the yeast that causes dandruff.
It also has hydrating and nourishing properties that make hair look shiny and lustrous.
Massaging with almond oil is beneficial in cleansing the hair follicles, treating dry scalp, and easing flaking and itching of the scalp. With a natural SPF 5, it can also protect hair from the sun.
The oleic acid and linoleic acid present in the oil improve hair strength and growth. Almond oil improves the overall texture of hair, making it soft and less prone to damage.
NEELIBHRINGADI OIL
Neelibhringadi Oil is a precious and the most complicated herbal formulation based on traditional Ayurveda, renowned for its effectiveness in solving numerous hair problems. The oil naturally strengthens the hair, stimulates hair follicles, promotes hair growth, and makes it healthy from inside to outside.
Neelibhringadi Oil has been used for ages and is still known for its efficacy in treating hair thinning and itchy scalp and preventing hair fall and loss. Moreover, this wonderful oil has the capability to manage premature grey hair, split, and baldness and make hair smooth and lustrous.
TRIPHALA
Triphala is a very popular and highly efficacious polyherbal Ayurvedic medicine. Consisting of equal amounts of Amla, Haritaki, and Bibhitaki, it acts as a tonic for hair and possesses antioxidant, anti-inflammatory, and antibacterial properties.
It is an ancient natural cure used to strengthen and nourish hair roots, stimulate follicles, and increase hair volume. Damaged hair can easily be repaired with the active compounds found in Triphala. It helps to prevent hair fall and premature greying and restore the normal pH balance of the scalp.
HIBISCUS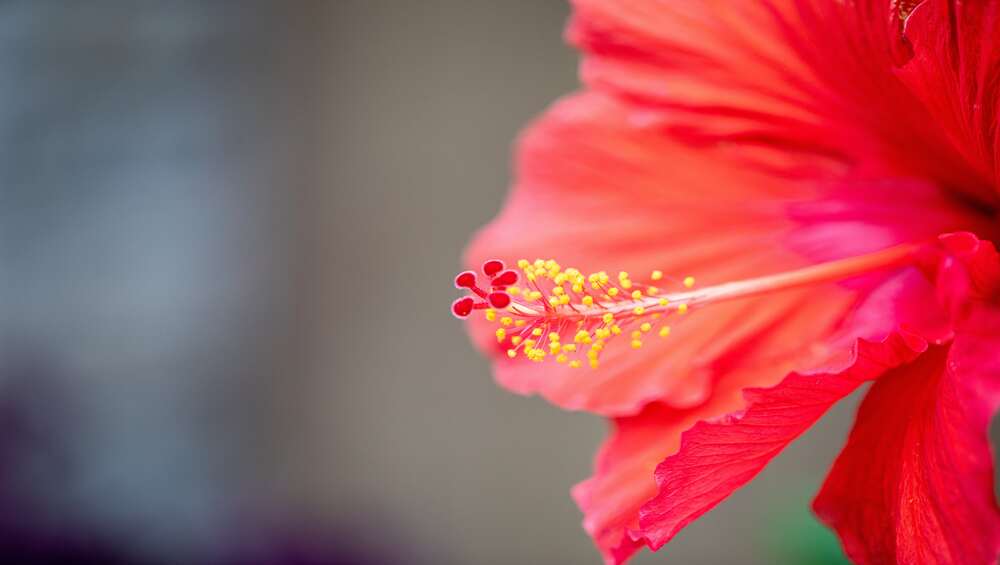 Hibiscus can do wonders with hair, and it promotes the growth of thicker and healthy hair and makes it less prone to breakage and damage. It is rich in flavonoids & amino acids that enhance blood circulation to hair follicles, retransform dormant follicles, and trigger keratin production in the cells.
Hibiscus lends nourishment to hair and helps to bring back its natural moisture. Its cleansing properties protect hair from UVB rays and also help balance the pH of your scalp.
The antioxidants and vitamins in Hibiscus are necessary for producing melanin and offer the hair a natural dye to mask grey hair. It balances the oily substance produced by the sebaceous glands for optimum hair lubrication and combat challenges like dandruff, dry hair, and itchy scalp.
Mucus in Hibiscus acts as a natural conditioner and makes the hair smooth, soft, and shiny.
CHIRONJI
Chironji is a great source of proteins. Other nutrients like vitamin B1, B2, and C, and minerals such as iron and calcium are also present inside it that help strengthens hair and increase the volume of the hair.
It inhibits grey hair, reduces hair and scalp dryness, and enhances hair texture. Chironji can also be applied as a conditioner to nourish the hair and cover the hair with a beautiful shine.
Regular application of Chironji oil on hair can make hair more manageable and save from.
Please comment below if you have any specific questions about your daily hair care. Our in-house doctor will be happy to advise you of a customized remedy.