Homemade Pedicure Tips To Take Care Of Your Feet
The majority of women want to relax and unwind on the weekend, away from their hectic work schedule. Because this foot procedure leaves your skin soft, healthy, and rejuvenated, pedicures are something that ladies really enjoy. There are a lot of moisturizing properties in those aromatic oils, creams, and scrubs. which is why most people choose salon pedicures.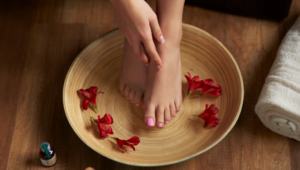 However, what if you just want the same experience at home? Well, if this is the case, Teacher's Grace has compiled some of the best homemade pedicure recipes you must try:
1.    Lemon and honey scrub:
A natural exfoliating treatment is what you are seeking at this moment. For this, you require simple ingredients available in your kitchen including honey and lemon.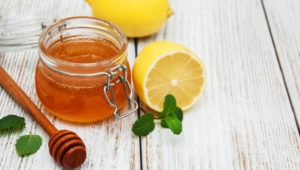 How it works-
Step 1: In a bowl, blend honey and lemon juice in equal proportions
Step 2: Add granulated sugar to create a thick paste
Step 3: Massage this application around your feet in circular motions
Step 4: Do not overlook cracked regions of your feet
Benefit: Lemon juice brightens your skin and Honey offers instantaneous moisturization
2.    Soothe & Soak:
For this pedicure experience, all you need is Epsom salt.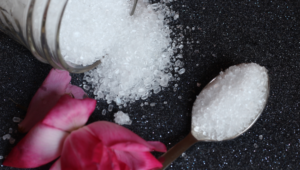 How it works-
Step 1: Fill a medium-sized tub with warm water
Step 2: Add half a cup of Epsom salt into it
Step 3: Soak your feet for around 20 minutes
Step 4: Apply a moisturizing cream after the procedure
Benefit: Salt is known to relax and rejuvenate the skin. When you scrub your feet with a subtle brush, all the dead skin cells are removed which is the primary goal of pedicure.
Note- Do not forget to rinse your feet with warm water after the salt-soaking process.
3.    Nail grooming:
A perfect pedicure is all about clean and polished nails. It begins with a simple process.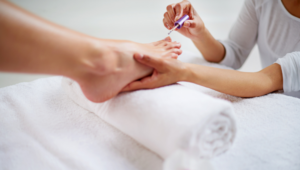 How it works-
Step 1: Firstly, remove any old nail paint over it
Step 2: Soak your nails in warm water which will result in softening
Step 3: Use a nail clipper to trim the nails wherever required and file the edges to achieve that desired shape of your nails
Step 4: Gently use the cuticle pusher and avoid cutting the cuticles as they protect your nail bed
Step 5: Apply a nourishing cuticle oil
Benefit: Nail trimming, oiling, filling, and warm water soak all contribute to a perfect nail grooming experience leaving your nails look rejuvenated.
4.    Moisturize with an avocado mask:
When you wish for perfect feet revitalization, an avocado mask is to be called for.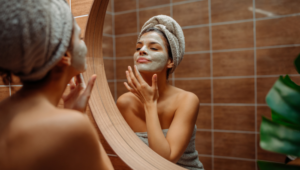 How it works-
Step 1: Blend half avocado with a tablespoon of honey
Step 2: Create a nourishing mask and apply the mixture to your feet
Step 3: Let it dry for sometime around 15-20 minutes
Step 4: After this, massage the dry regions of your feet
Benefit: The greatest advantage of an avocado mask is that its natural oils immediately moisturize the skin deeply leaving your feet glowing and soft.
5.    Peppermint scrub:
You can indulge your senses with a refreshing peppermint foot scrub.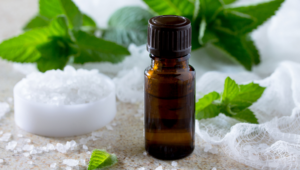 How it works-
Step 1: Mix two tablespoons of finely ground oats, one tablespoon of oil, and a few drops of peppermint essential oil.
Step 2: Gently massage the scrub on your feet
Step 3: Pay attention to the dry, cracked, and rough patches.
Step 4: Rinse your feet with warm water and enjoy the cooling effect.
Benefit: Skin exfoliation, smoothening, and instant rejuvenation.
6.    Cuticle oil treatment:
During a pedicure, keeping your cuticles healthy is highly crucial.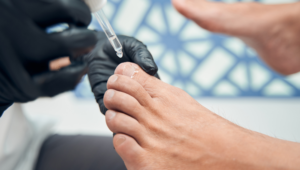 How does it work?
Step 1: Blend vitamin E and olive oil in a small bowl
Step 2: Mix the application well
Step 3: Apply a drop of the mixture to each cuticle and massage gently
Step 4: Leave it for a few minutes and allow the oils to penetrate
7.    Coconut oil massage:
Coconut oil is highly popular for its antioxidant properties. You can give a perfect coconut oil foot therapy by massaging pressure points.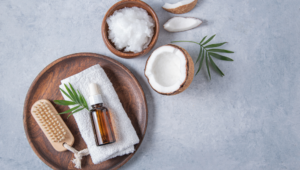 How it works-
Step1: Take coconut oil in your palms
Step2: Apply it all over your foot
Step3: Start massaging your toes and then move upwards to the ankles
Step4: Put gentle pressure, which will help you release all the tension
Step5: Make good use of your thumbs and hands for this self-massage
Benefit: Massaging with coconut oil improves blood circulation, and gives instant moisturization.
8.    Calming Lavender foot therapy:
This is a soaking experience in lavender soap. It is one of the most soothing and calming pedicure experiences you would ever enjoy.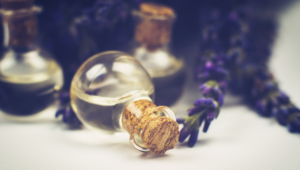 How it works–
Step 1: Add essential lavender oil and soap both in warm water.
Step 2: Soak your feet for at least 15 to 20 minutes.
Step 3: The foot soak will help you relieve your body's stress while leaving your feet refreshed, revitalized, and stress-free.
Experience the benefits of nature-
When you need a remedy for your mind, body, and soul, Ayurveda, the science of life, teaches you to connect with herbs, spices, essential oils, flowers, and plants. In addition to saving money over going to the salon, trying the ayurvedic treatments listed above also enables you to learn the most natural ways to look and feel beautiful.