Virabhadrasana, also known as Warrior Pose, is a collection of lunging standing asanas or yoga poses. The asana is spelled Vee- Ra- Bha- Dra-asana. Warrior Pose I is one of three Warrior poses that combine both standing and balancing movements of the body.
"Although fundamental in nature, what makes the Virabhadrasana series unique, powerful, and a little complex at the same time is the fact that you are required to balance simultaneous movements in different directions," says Suman Chhabria, Certified Yoga instructor and founder of Anaya, adding that this act of balancing directly works on creating stillness in mind, building focus, power, and stability, thereby improving health on a holistic level. "It also teaches us to develop a sense of balance and become more conscious of our body positioning," she adds. In Sanskrit, Vira means "hero" or "warrior," and Bhadra means "good" or "auspicious." According to Hindu mythology, Lord Shiva created the warrior Virabhadra, symbolising our inner ability to overcome ego and ignorance.
This asana is regarded as one of the most graceful in yoga, and it adds a lot of beauty to the workout. The steps for performing Virabhadrasana are as follows:
Stand tall with your feet wide apart.
Turn one foot 90 degrees outward and the other 15 degrees inward.
Check that the heel of the tuned 15-degree foot is aligned with the center of the other foot.
Turn your shoulders, chest, and pelvis forward while placing your hands on your hips. The torso should be facing the front of the mat.
Bring your arms from the sides over your head while inhaling. Maintain a namaste pose with your palms over your head.
Bring your shoulders down your back, keeping your back leg firm.
Exhale deeply while bending the back knee and keeping it directly in line with the other ankle.
The thigh should be perpendicular to the ground. Check that the bent knee does not extend past the ankle and that the big toe is visible.
Arch your back and drop your head back, looking up at the namaste pose.
Ground down the front foot, ensuring that the outer edge of the foot is firmly pressed against the mat. This allows the weight to shift back.
Engage your abdomen and draw your tailbone toward your pelvis.
Hold the pose for 10 to 20 seconds.
Inhale and straighten your back leg, exhale and step your feet together, and release your arms. For maximum benefit, switch sides and repeat the procedure.
The mythology behind virabhadrasana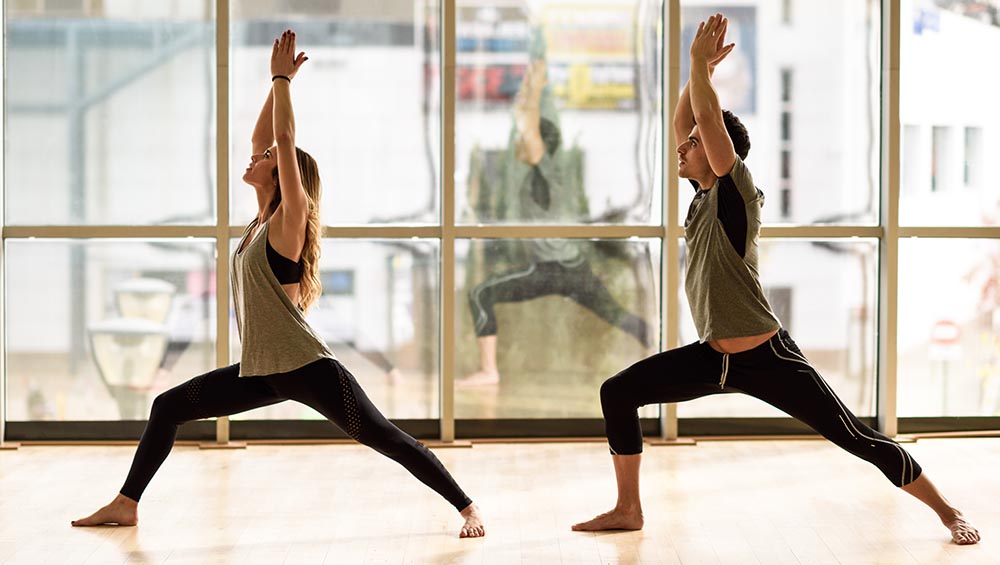 This is how the story goes. Daksha, a king, refused to invite his daughter Sati and her husband Shiva to a yagna (sacrifice ritual). She couldn't take the humiliation and insult any longer, so she stormed into the venue, walked into the fire, and burned. When her husband arrived at the location and discovered his beloved wife had died, he was both saddened and enraged. He plucked a strand of his hair and beat it to the ground, causing a powerful warrior to emerge. He gave this warrior the name Virabhadra, which means "hero-friend," and sent him to destroy Daksha and all his guests at the yagna.
The first aspect of Virabhadra's arrival is the Virabhadrasana I, which he thrusts up from below the earth.
Benefits of virabhadrasana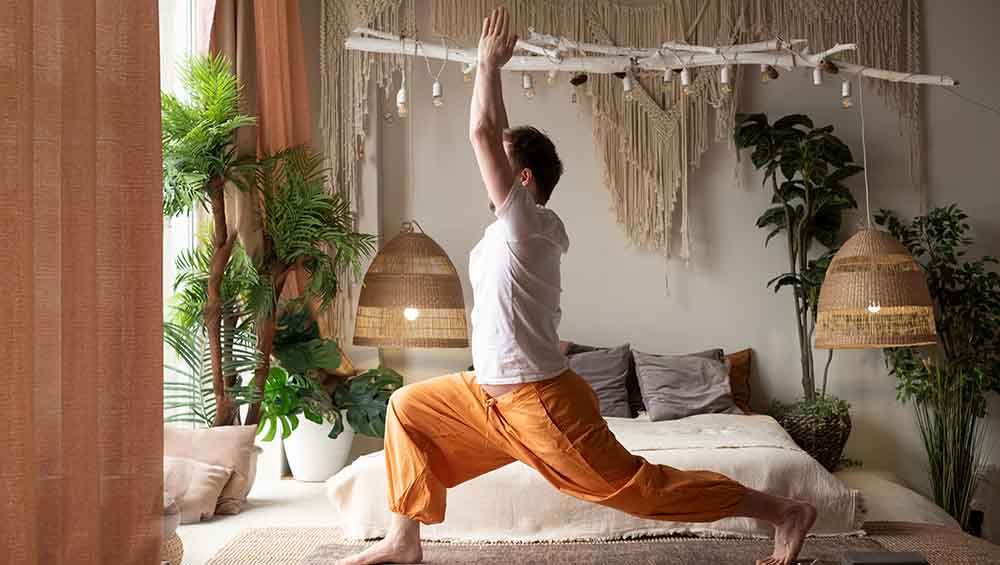 This asana helps to improve balance by strengthening the back muscles, buttocks, and hamstrings. Lifting your torso and arms helps to build arm, shoulder, and back strength. Strengthens the biceps and triceps while also opening and strengthening the shoulder joints. This asana strengthens the abdominals and outer hips. Hip flexors are opened and hip extensors are strengthened. Engages the deep core muscles, which aids in stability and balance. Can help with sciatica pain relief. To get relief from aches you can use Cinnta pain relief oil by Teachers Grace.
This asana is known to tone and strengthen the lower back, arms, and legs.
It improves stamina and helps to stabilize and balance the body.
It is also an excellent asana for those who work at a desk or are sedentary. It both stimulates metabolism and heals the spine.
This asana relieves frozen shoulders.
It also helps to relieve shoulder tension almost immediately.
This asana relaxes the mind and body while spreading the concepts of peace, courage, grace, and auspiciousness.
The entire body is energized.
Also Read: All You Need To Know About Virasana And Its Benefits
Virabhadrasana's Contraindications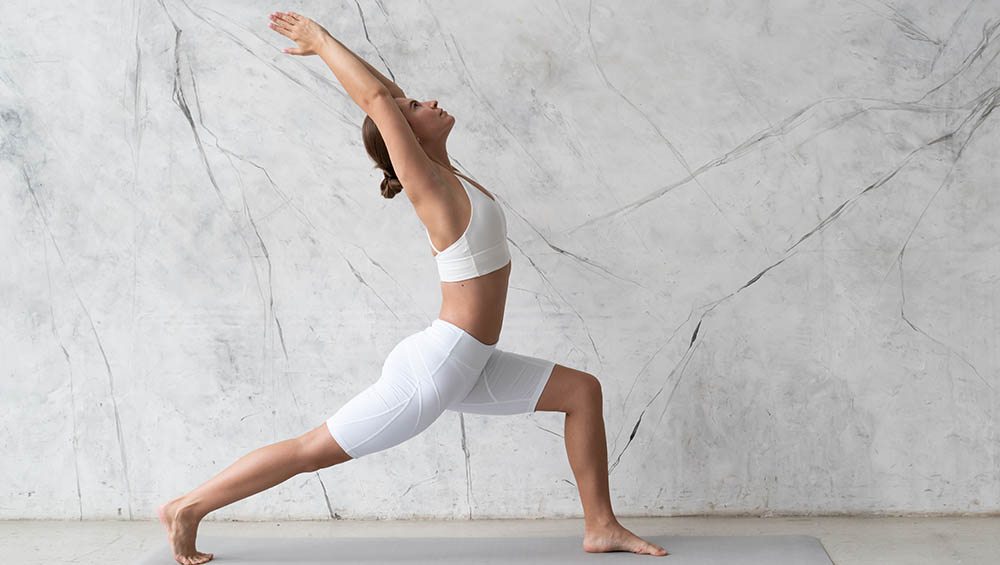 Before attempting this asana, be aware of the following warning signs: –
Patients with high blood pressure should avoid this position. If you have neck pain, keep your head in a neutral position and avoid looking at your thumbs.
This posture should be avoided by people who have heart problems.
Avoid this posture if you have knee pain or an injury to your knee.
If you have knee pain or arthritis, use a knee brace to hold this yoga posture.
Virabhadrasana is especially beneficial to pregnant women in their second and third trimesters who have been practising yoga on a regular basis. Practice Virabhadrasana close to a wall so you can support yourself if necessary. However, before attempting this yoga posture, consult your doctor.